The nominations for the Grammy Award for best spoken word album were announced Tuesday, with former President Barack Obama and LeVar Burton among the author/narrators hoping to take home the prize.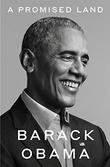 Obama earned a nod for his audiobook version of A Promised Land, his 2020 autobiography, which a critic for Kirkus called "a top-notch political memoir and serious exercise in practical politics for every reader."
Obama is no stranger to the Recording Academy's famous prizes. The former president has won two best spoken word trophies in the past, for his audiobook versions of Dreams From My Father and The Audacity of Hope. His wife, Michelle Obama, took home the award in 2020 for her narrated version of her memoir, Becoming.
Actor and Reading Rainbow star Burton was nominated for his narration of Aftermath, his 1997 science fiction novel about a future United States reeling from a disastrous earthquake and presidential assassination. A critic for Kirkus praised Burton's novel as a "wise, above-average debut."
Actor Don Cheadle earned a nomination for narrating the audiobook edition of the late Rep. John Lewis' Carry On: Reflections for a New Generation.
Rounding out the nominations were spoken-word poet J. Ivy for his album Catching Dreams: Live at Fort Knox Chicago and Dave Chappelle and Amir Sulaiman for 8:46, an album that features comedian Chappelle's discussion of police violence against Black Americans, and spoken-word artist Sulaiman's performances of poems on the subject.
The winners of the Grammy Awards will be announced in Los Angeles in January.
Michael Schaub is a Texas-based journalist and regular contributor to NPR.