One of my most vivid sports memories ended in a loss. On March 29, 1999, during my freshman year at Duke, I sat in the upper rows of Cameron Indoor Stadium with a few thousand of my fellow students and watched on a giant screen what we thought was impossible: our beloved, seemingly unstoppable Blue Devils, 32-1 on the season, losing another game. This time, it was the national championship game, and Duke fell to Connecticut, 77-74. I attended every game that season, spending many sleepless nights in a sleeping bag outside the arena to get tickets, and while the end was an undeniable disappointment, I will always cherish those memories.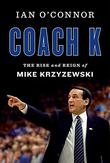 It's remarkable to think that Mike Krzyzewski, already a legend of the coaching world by that time, would go on to lead the Duke team for another two-plus decades. He is now the winningest coach in NCAA history, with more than 1,100 victories to his name as well as five national championships, 12 Final Fours, and three national coach of the year awards. This season will be Coach K's last, and I'm excited to watch yet another uber-talented squad compete for a national championship again. (In addition to the back-to-back titles in 1991 and 1992, they won it all in 2001, 2010, and 2015.) To prepare for Coach K's final chapter, I recently devoured Ian O'Connor's Coach K: The Rise and Reign of Mike Krzyzewski (Mariner Books, Feb. 22), which our starred review called a "sharpshooting account worthy of a champion."
O'Connor, a New York Post columnist and longtime ESPN writer, creates a largely chronological, fully fleshed portrait of Krzyzewski (b. 1947): childhood and adolescence in a poor Polish American family in Chicago, where he fell in love with basketball; playing for, and then coaching under, Bobby Knight at Army; enduring angry fans and racist taunts during his first few tumultuous years at Duke; leading USA Basketball to three straight Olympic gold medals; flirting with NBA head coaching positions before eventually signing a lifetime contract at Duke; forging countless strong relationships with players, assistant coaches, administrators, and fans; and, most importantly, maintaining his fierce devotion to family, especially his wife, Mickie, who has been at his side for the entire ride.
This is not to say that Coach K is infallible; like anyone else, he has plenty of flaws. O'Connor, who in previous biographies got under the skin of two other giants of the sporting world, Derek Jeter and Bill Belichick, is highly attuned to the complexities of his subject's character. As our critic noted, "the author doesn't shy away from Krzyzewski's shortcomings: A fiery competitor, he can be petty and temperamental and has difficulty apologizing; as a tactician, he's not particularly innovative. O'Connor also probes the few occasions that the program has toed the line of impropriety and highlights how Coach K leverages every possible recruiting advantage (perhaps unfairly), such as getting NBA players like LeBron James to sing his praises. He also makes a powerful case for why Krzyzewski has achieved such immense success: He's an extraordinary communicator and motivator, brilliant organizer, and tireless worker who prioritizes family and team above all else."
As much as I love sports, I don't always connect with sports biographies. Coach K is one of the better ones in recent years—and not just because the subject is one of my favorite sports figures of all time.
Eric Liebetrau is the nonfiction and managing editor.