James Patterson stopped by Late Night with Seth Meyers to discuss his new autobiography and what it's like to be one of America's most famous authors. (Not as glamorous as you might think, it turns out.)
James Patterson by James Patterson was published Tuesday by Little, Brown. A critic for Kirkus praised the book as "a brisk, entertaining read."
Patterson wasted no time joking about the cover of the book, which features a photo of himself as a younger man.
"Who the hell's the guy on the cover?" he said.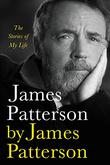 "I was going to say, because I went and said hi to you backstage, and then I saw this book, and I was like, 'What's going on here?' " Meyers responded.
Patterson talked about visiting a bookstore after one of his early books became a national bestseller.
"I'm watching this woman, and she looks at [my book], and she looks at the back," he said. "And then she walks down the aisle, and I said, 'This is the best. I want to go hug this woman,' you know?' She puts it in her bag. She stole it. And all I'm going is, 'Does that count as a sale?'"
"Do you get recognized as yourself now?" Meyers asked Patterson, adding, "Certainly this cover photo's not going to help."
Patterson responded with a story about visiting an Italian restaurant recently.
"The waiter takes me down a little aisle," he said. "This woman pops up…and she goes, 'I know you! You sold us our insurance policy.' And then I go to the table, and I'm sitting there, and I get my appetizer, and the guy behind [me] goes, 'Are you from Boston? You're Tom Clancy!' I go, 'No. If I am, we're all in big trouble, because he died nine years ago, and [this is] a horror movie.' "
Michael Schaub, a journalist and regular contributor to NPR, lives near Austin, Texas.